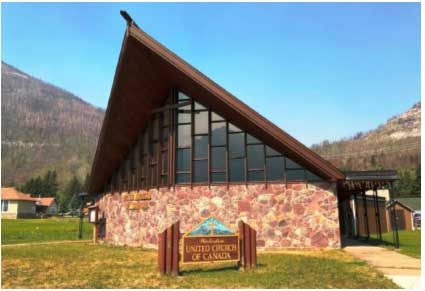 The United Church of Canada in majestic Waterton Lakes National Park, Alberta, Canada. Welcome to our beautiful church in the mountains.
Humanity has a great and timeless tradition of feeling close to God in the mountains, and visitors to this church are constantly inspired by the awesome view of Mount Vimy, framed so skilfully in 1961 by gifted architect George Watson. It has been aptly called "The Church With a View!"
WATERTON UNITED CHURCH
INVITES YOU TO A SPECIAL EVENT
With two optional times to attend.
July 4th at 10:30 a.m. and at 2:30 p.m.
REV. DR. JOHN PENTLAND is known nationally for his leadership in amazing growth and revitalization at Hillhurst United in Calgary.  He will share ideas and strategies which many faith families have found helpful.
Please note that we have 25 safely spaced chairs, and all due Covid safety protocols in place.  Masks available when mingling.  We are not allowed to serve refreshments, but you may bring your own.
June 2021 Newsletter
Waterton United Church
29th Annual Christmas Candlelight Service
Saturday, December 19, 2020
Minster: Rev. Eva Stanley
Click the YouTube Link to see the Service